MITRONIC
Made in Poland
36 years of experience
Contact
displays@textil-lightboxes.eu
Tel. +48 )22 649 63 71
VAT TAX
Business customers
WITHOUT VAT Tax
Private customers
WITH VAT Tax
SHIPMENT IN EUROPE
DHL▪ UPS ▪ TNT ▪
FedEx ▪ GLSDPD ▪
RABEN ▪ HELLMANN
MITRONIC
Made in Poland
36 years of experience
Contact
displays@textil-lightboxes.eu
Tel. +48 (22) 649 63 71
VAT TAX
Business customers
WITHOUT VAT Tax
Private customers
WITH VAT Tax
SHIPMENT IN EUROPE
DHL▪ UPS ▪ TNT ▪
FedEx ▪ GLS ▪ DPD ▪
RABEN ▪ HELLMANN
Fair Counters and 3D textile constructions
We also manufacture reusable trade fair counters. These are made in similar technology as the textile light boxes. The graphic is printed on a textile fabric. You can exchange them several times without tools. For transport, you can fold the aluminium structure and roll up the fabric with the graphic. We manufacture various three-dimensional textile constructions (3D). For example, advertising cubes, as in the photo: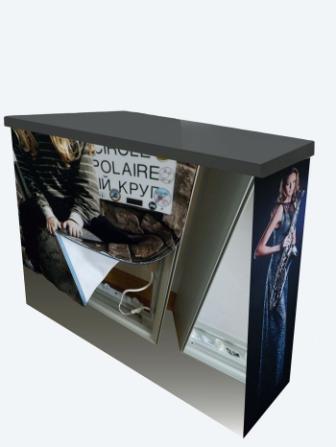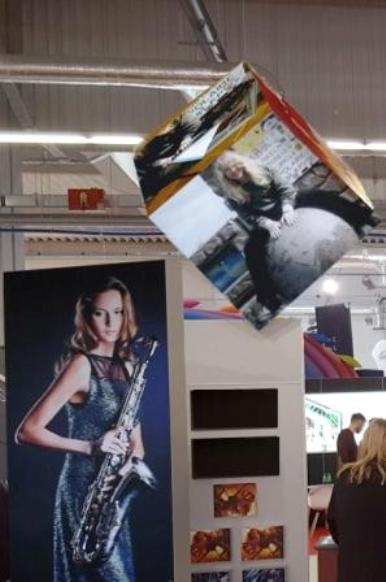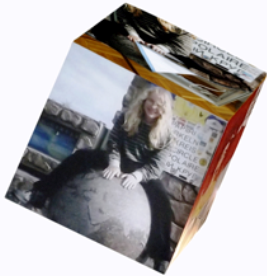 Presentation Walls
Fabric walls
Textile walls

Presentation walls we manufacture in the same technology as the  Textile Light Boxes.  Fabric Walls are ideal for large spaces. The textile walls are well suited for trade fairs, commercial spaces, hotels, health centers etc.

   In case, if the presentation walls are too big, we divide the aluminium profiles into shorter sections. During assembly, these are connected by means of special fasteners.

  We supply fabrics with printed graphics, which can be mounted quickly and without tools. The assembly takes place with the help of the sewn-in silicone rubber cord, which is pressed into the aluminium frame. The graphics can thus be exchanged several times and this reduces the advertising costs. For more information on fabrics, printing and other technical details, please press on ​Textile Light Box.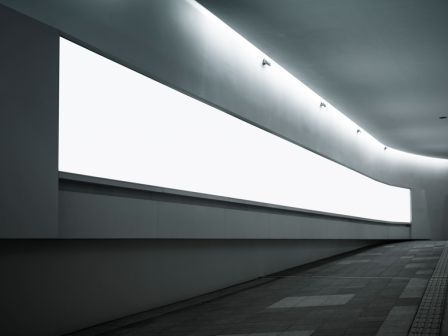 FRAMELESSRAHMEN ● LED SPANNRAHMEN ● LED TEXTILSPANNRAHMEN ● LED BELEUCHTET ● LED RÜCKBELEUCHTUNG ● LADENBAU ● MESSEBAU ● HINTERBELEUCHT ● LED PROMOTIONTHEKE ● CADRES-TEXTILES ● TEXTIL-LIGHTBOXES ● TEXTIL-DISPLAYS ●  FABRIC-DISPLAYS ● TEXTIL-LEUCHTKASTEN ● FRAMELESS-RAHMEN  ●TEXTIL-SPANNRAHMEN  ● TEXTIL-LIGHTBOX ● TEXTILE-DISPLAYS  ● TEXTILE-LIGHTBOX ●  CAJA DE LUZ TEXTIL ● TEXTILRAHMEN ● FABRIC-DISPLAYS ● FABRIC-LIGHTBOX ● TEXTIL-RAHMEN ● FABRIC LIGHT-BOX ● HINTERLEUCHTEN ●  BACKLIGHTING ● ZARGENLEUCHTEN ● TEXTIL-LEUCHTRAHMEN ● ZARGEN LIGHTING ● KANTENLEUCHTEN ● BACKLIGHTEN ●  TEXTIL KÄSTEN ● LED LEUCHTKÄSTEN ● LEUCHTKASTEN BEDRUCKEN ● LED KASTEN ● BEDRUCKSTOFF
MITRONIC
Made in Poland
36 years of experience
Contact
displays@textil-lightboxes.eu
Tel. +48 (22) 649 63 71
VAT TAX
Business customers
WITHOUT VAT Tax
Private customers
WITH VAT Tax
SHIPMENT IN EUROPE
DHL▪ UPS ▪ TNT ▪
FedEx ▪ GLS ▪ DPD ▪
RABEN ▪ HELLMANN